Care Package by slimjimstudios
(Source: axe)
Ok so I have to break my blogging silence for this because a.) it's Matt Smith and b.) the man is wearing a fabulous pink scarf and making it look effing sexy! I mean come on people! Only Matt Smith can wear a brilliant pink scarf meant for 5 year olds and make it look like a completely normal part of his outfit.
(via lilytojames)
ACM Red Carpet Overview
This Sunday my two loves, award shows and country music were combined in one massive event, the Academy of Country Music Awards. This blog post is my attempt to weed out the best dressed from the utter flops. In no particular order:
#1- Taylor Swift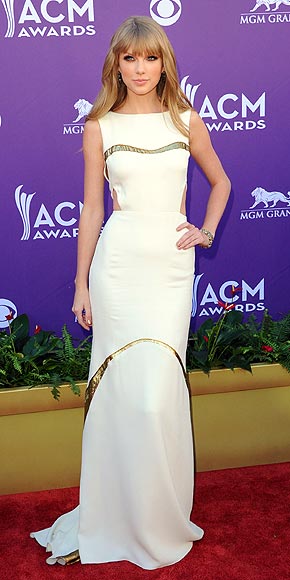 I have a serious dislike for cut outs, coming for my own experiences of not being able to actually pull them off, but in this beautiful white column J. Mendel dress Taylor has graduated from teenage country cutie to a sultry country star. I love that this gown strays from her normal sparkly princess gowns and yet the white color still keeps a semblance of innocence. Well Done, Taylor! We'll all be watching to see what you come out in next.
#2- Carrie Underwood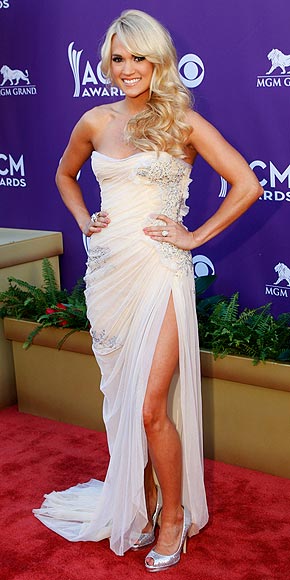 Suprisingly, I don't love this Abed Mahfouz gown. It looks beautiful on Carrie, but it annoys me that I can't tell whether the color is pale yellow or pink and I feel like its a typical silhouette for Underwood to wear. I think she could have shown off her pretty shoulders with an elegant updo rather than that thick mess of curls. Props, to Underwood though for showing off that much amazing thigh.
#3- Miranda Lambert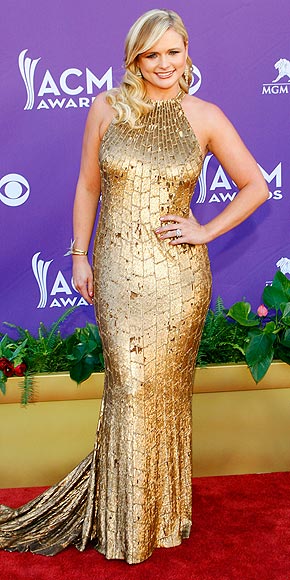 I am usually not a huge fan of Miranda's red carpet looks. She very often wears the same silhouette and the dresses are almost always very ordinary. Not this time. This time, Miranda Lambert's gold Randi Rahm gown puts her high above everyone else on the best dressed list. The only problem I have with this look is the weird stripe of brown in her hair, but even that can be ignored. Her husband may be hosting the event, but I'm sure all eyes were on his beautiful date.
#4- LeAnn Rimes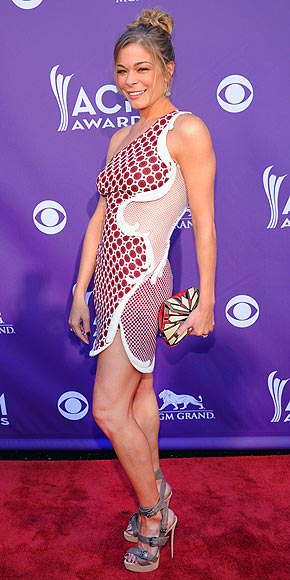 I absolutely hated this look. It wasn't really LeAnn's fault other than she picked a horrible dress, but even when I saw this look at fashion week I couldn't believe my eyes. The netting, the print, the one shoulder all add to the worst combination of things on a piece of fabric. LeAnn doesn't help the cause with her clashing clutch and cheesy hairstyle.
#5- Sara Evans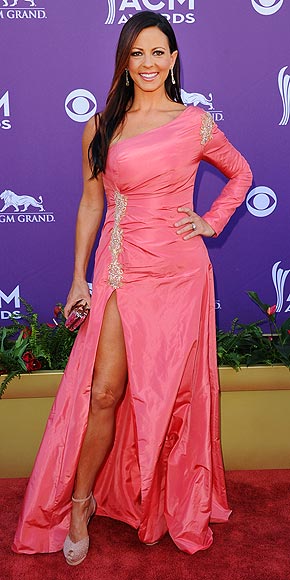 This rivals LeAnn's look for horrible gowns on this year's red carpet.  Sara Evans usually picks short sassy dresses that show off her outstanding legs, instead this year she picked a gown that can only be described as 80's prom queen gone wrong. This dress would have been infinitely better as a strapless or even a short strap one shoulder instead of the full on sleeve. Plus, there's a weird puckering in her… well, everywhere to be precise. It looks like someone just didn't fit the dress on her body properly. The fabric looks cheap and synthetic-like. The slit is way too much compared to the heavy fabric. I also think she should have gone for voluminous curls instead of a sleek hairstyle that makes the whole outfit look ordinary.
Well, there you go. Hope you all enjoyed me ripping apart some of the evenings looks. Let me know who you guys think was best dressed or worst dressed of the night!
Let's Bring Back the Funky Socks!
Can we just all talk about how amazing Matt Smith's socks are in this outfit? He and his costars are promoting their show. I love that he wore them with an otherwise ridiculously boring outfit.
For anyone who doesn't know Matt Smith, he is the doctor on the popular BBC television show Doctor Who. His character is often quirky and exudes over-the-top exuberance with his fast rhetoric. It makes perfect sense that Matt chose to where these socks while promoting his character since they are just the type of thing that the Doctor is bound to appreciate.
(Source:mattandkaz via. my-ponchoboys)
The Fashion Court
I am obsessed with this website I've just discovered called The Fashion Court. It's a site by Courtney Justice. It's really terrific!
She covers major fashion moments on the red carpets and during press events. She gives designer names of the clothing, jewelry and accessories that the celebrity is wearing. Plus, she gives her opinion of the outfit. I love her writing style and I tend to agree on most of the things she says about the outfits.
All in all, the site is a great way to get a bit of fashion news, so Check It Out!
Things I Learned From… Nina Garcia
@ninagarcia tweeted today: Find ironic designs and large, interesting brooches. Put them in your hair, on your hats, on unexpected places on your clothing.
This tweet comes just in time, as I have recently found an awesome flower brooch that my grandmother gave me. Now where to put it, so it still looks modern and cute. I'll let you guys know what I decide.
Until then, here's a few brooches that I love:
60 Euros @luluguinness
$295 @netaporter.com
$58 @farfetch.com
$45 @1928.com
$25 @macys.com
Things I Learned from…Elizabeth and James
Hoop Earrings don't necessarily have to be circular. These beautiful gold square hooped earrings are proof that fashion is at its best when it takes everyone by surprise, even when its a small surprise like changed a usual circle into a square.
I love the minimalist approach that Elizabeth and James has taken and yet these hoops have just enough edginess. It is no surprise that these earrings are so youthful since Ashley and Mary-Kate Olsen are co-designers for the label.
The designers try to portray a mixture of different concepts in their designs, such as feminine and masculine, casual and dressy. The uptown and downtown worlds.
These earrings definitely are the best of both worlds!
All that is necessary for the triumph of evil is that good men do nothing.

NCIS
Things I Learned from… Fashion Week 2012
1. It's okay to mix two contrasting fabrics to make an outfit that is both comfortable and cute, as proven by Felder and Felder.This outfit is so adorable because it doesn't seem like these fabrics should go together, but couldn't you just see yourself curling up with a cup of tea in that sweater. Plus, in that skirt you can go anywhere and you'll stand out. My method of dressing is go for comfortable over cute, but here you get both!
2.Don't be afraid of a splash of color. Jean Pierre Braganza shows in this dress that color isn't something anyone should fear. Pair this with a cute black blazer and you can wear it to work no problem. Plus, the colors and designs in this dress have an Alexander Mcqueen feel and we all know how much I love the Mcqueen.
3. A little bit of sparkle goes a long way. PPQ shows us that sparkle adds that extra touch to an outfit. I love that this designer chose to put the little extra sparkle on the outfits tights rather directly on the skirt or top. Its an unusual twist, but so fun!
4. How amazing are Rodarte's star hair pins? I love how they can make any outfit look a little extra glam, and they can be worked into an elegant outfit or to make an outfit look alittle more hard edge.
5. I'm still not sure if I love or hate Giles Deacon's new collection. The burnt fabric look that he's going for can look gaudy and trashy, but in the end I've decided that I actually like the look. It's refreshing to see a designer come up with something truly original, and whether you love or hate the burnt look, it is original.
Things I Learned From A … Movie
"You fall in love with as many things as possible."
This quote was uttered by the stunningly beautiful Gwenyth Paltrow as Kelly Canter in the movie Country Strong. Although this movie was ignored by many because they weren't country music fans, the movie actually has an amazingly poignant message. 
Lesson: Do your best to fall in love with as many things as possible because it will enrich your life.
Fall in love with the way fresh cut grass smells, the way the first sip of coffee tastes. Love your mother, your father, your aunt, your uncle, even the neighbor's loud and obtrusive dog.
The more things you love, the less you'll hate!
<3